Gaming Center, Internet Cafe and Cyber Cafe Software


More choices, at any price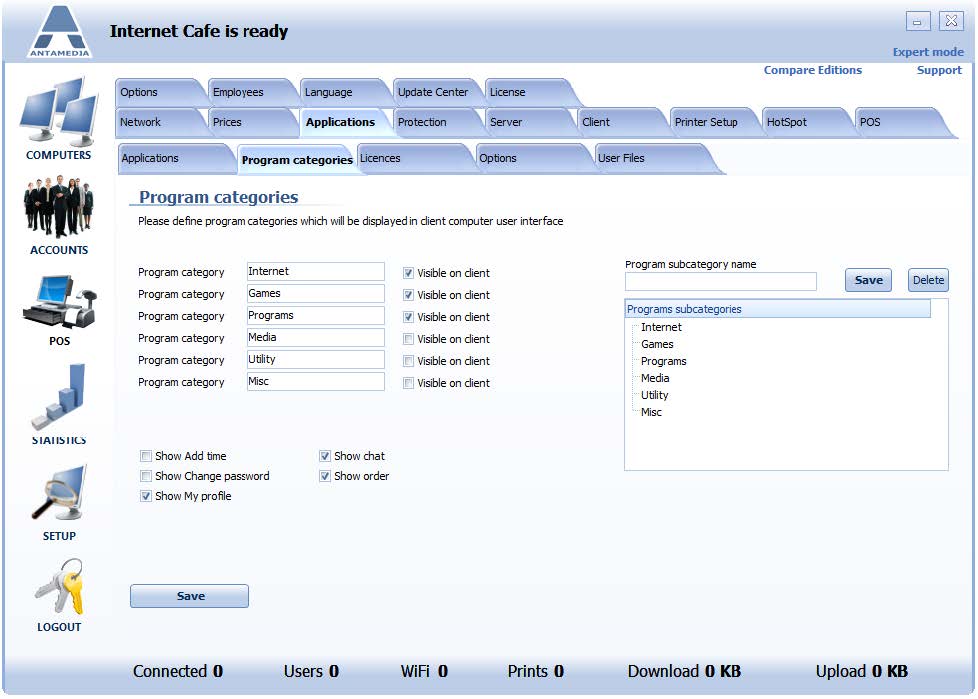 You can configure your service by categories. Such categories can include:
• Internet Access
• Games
• Specified Programs
Up to 3 additional categories of your choice can be created.
Multiple program categories can be used with an unlimited number of programs. By defining available applications, you're giving access only to those specified applications, protecting your computers from viruses, macro scripts and so on.
As a bonus, each category can have its own pricing structure. See below.
Easily customize default translation files or make even a complete new translation!
Internet Cafe software supports easy translation to the new languages or modification of the included languages.
Any of these languages can be adjusted to your own needs through the integrated editor.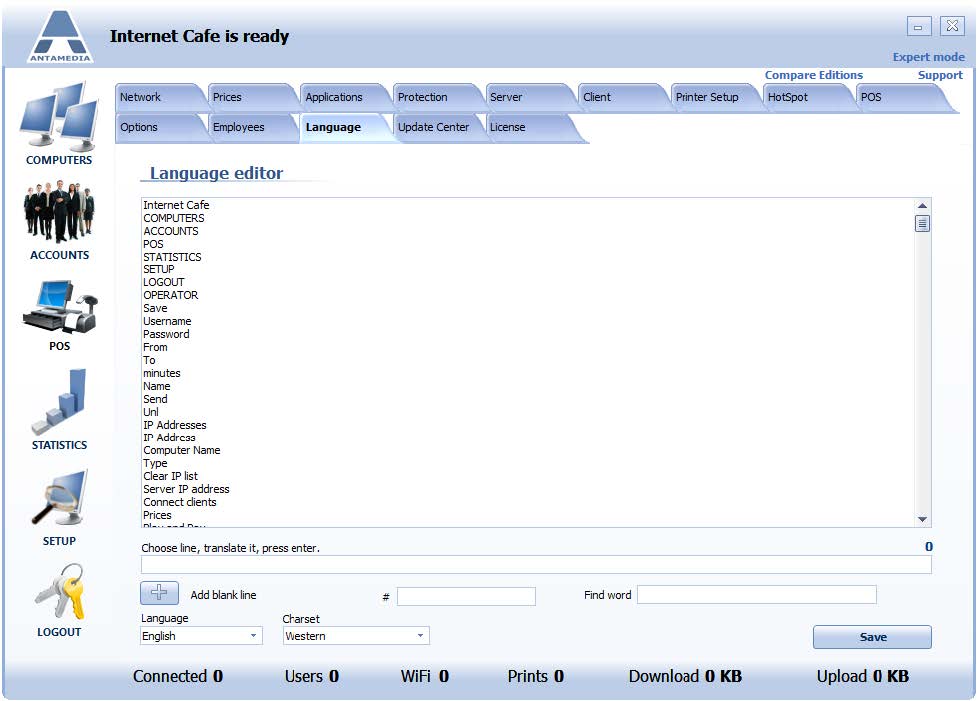 Any Windows Operating System

We take full advantage of the latest improvements to the Windows operating system, while maintaining support for our clients using legacy systems.
That means you can use our software on any Windows operating system from Windows 7, up to Windows 10, including both 32 and 64 bit versions.
Windows 10 / Windows 8 / Windows 7 / W2016 Server / W2012 Server / W2008 Server
A Pricing System Suitable for Any Use
Our software offers various pricing methods and separate prices for Internet, Games and programs usage with 3 additional program categories.
Block
Similar to basic pricing, usage-cost in block pricing is added in specified time intervals. For example: each 15 minutes, add $1.00. An "overtime" option is available, allowing a few minutes extra usage without extra cost.
Bulk
Proceeding time intervals of different duration may have different prices. This can be very useful for encouraging longer sessions!
For example: first 10 minutes costs $1.00, next 20 minutes costs $0.50, and every 30 minutes after costs $0.40.
Scheduled
Setup different prices during the day for each program category. This option can be used to set special weekend pricing, happy hours etc.
Tickets
Prepaid tickets can be generated real-time or in advance. Your customers login and use any computer as long as there is time on his account. Additional time can be added and login limited with an expiry date.
User Accounts
A prepaid or postpaid mode, with the ability to specify an individual discount for each user, is a powerful tool.
Regular customers login with their username and password. There are many options including configurable access options, unlimited usage, download and upload rate (requires Premium edition), daily limits such as the maximum number of logins, daytime usage restrictions, expiration on a fixed date or after inactivity, and many more.
Unlimited Time Accounts
For regular customers there's an option for granting monthly access, perhaps with a discount.
This option can be configured for each ticket or user account individually, combined with the 'expiration' option to ensure they renew each month
Additional Pricing Options
There's more!
Different combinations of existing pricing methods can be created including free x minutes on session start, access from-to hours etc.
For sheer flexibility Antamedia can't be beaten. You get to run your business your way, with software that's a help, not a hassle.
Download the fully-functional demo today – and be aware we also pride ourselves on having the best support team available – you'll never get stuck!
Antamedia Help & Support Center