Gaming Center, Internet Cafe and Cyber Cafe Software


Maximizing Internet Cafe Profits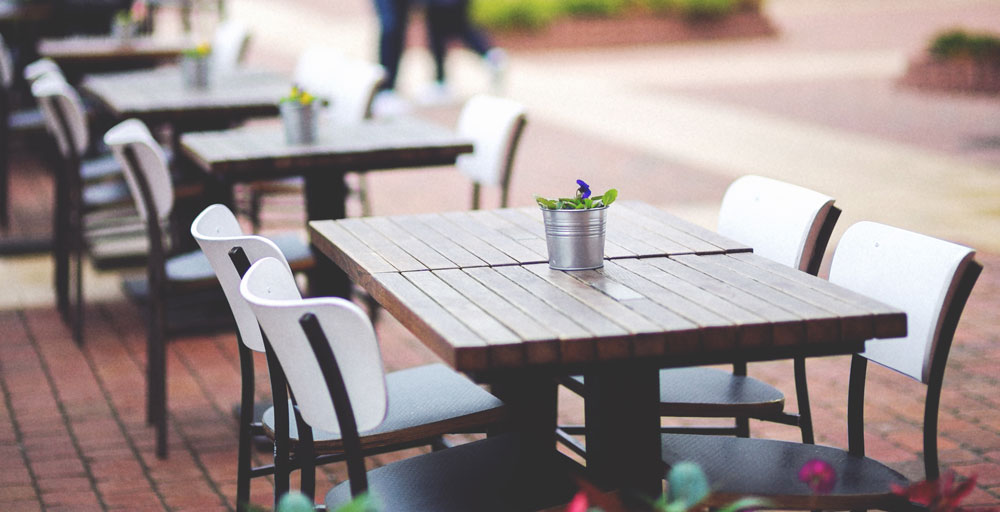 Food, Drinks, Loyalty and Promotions – Built In!
There's two obvious ways to boost profits up, tweaking the basic operation or offering extras.
• Retail sales such as souvenirs
• Food and tables
Self-Promotions and Shameless Plugging
Depending on your settings, when your customer sits down to use one of your computers they are presented with a login screen.
As well as an opportunity for "brand awareness" this is the ideal canvas for displaying some advertising.
It could be showing off your new spa, telling them about your Friday Nite Specials – or advertising a completely different company!
It's easy to find numerous businesses delighted at the chance to place a long-running ad' for local visitors, such as tour companies, taxi firms or pizza delivery, to name just a few. Charge as much as the local market will bear and you're getting have free money…
Easy to understand reports from Antamedia Internet Cafe Software also make it easier to optimize pricing, opening hours and other such factors, tweaking your business to perfection.
Many customers feel the need to print things out, if only because it's convenient or their home printers are out of ink!
This can be a great little money spinner, although it used to be difficult to control costs and usage.
Antamedia makes it easy, using the same "engine" as used in our specialist print management software.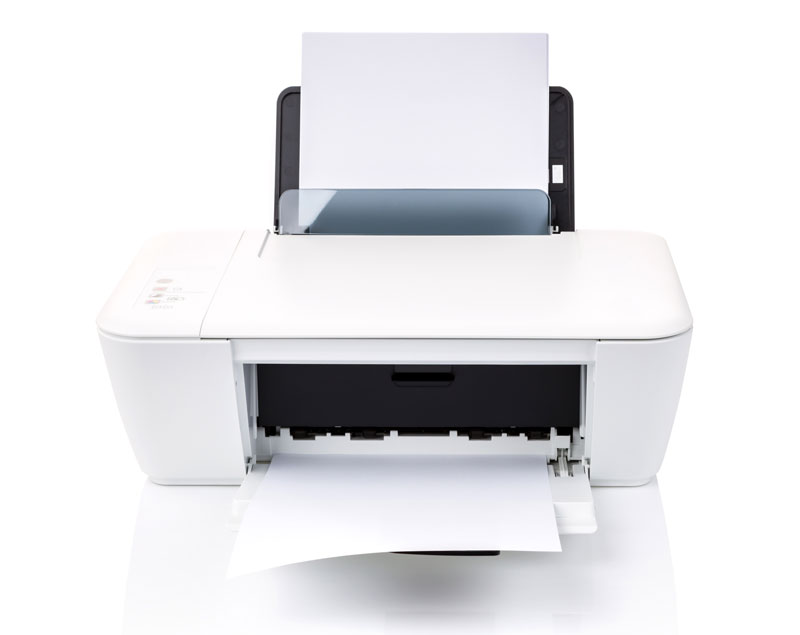 We were the first to offer automatic account signup where customers pay You with credit card, without operator assistance.
While many cyber cafe software developers still do not offer this functionality (or offer a very limited number of payment gateways), Antamedia offers 50+ Payment Gateways, including PayPal, Authotize.net, Moneris, Optimal, etc…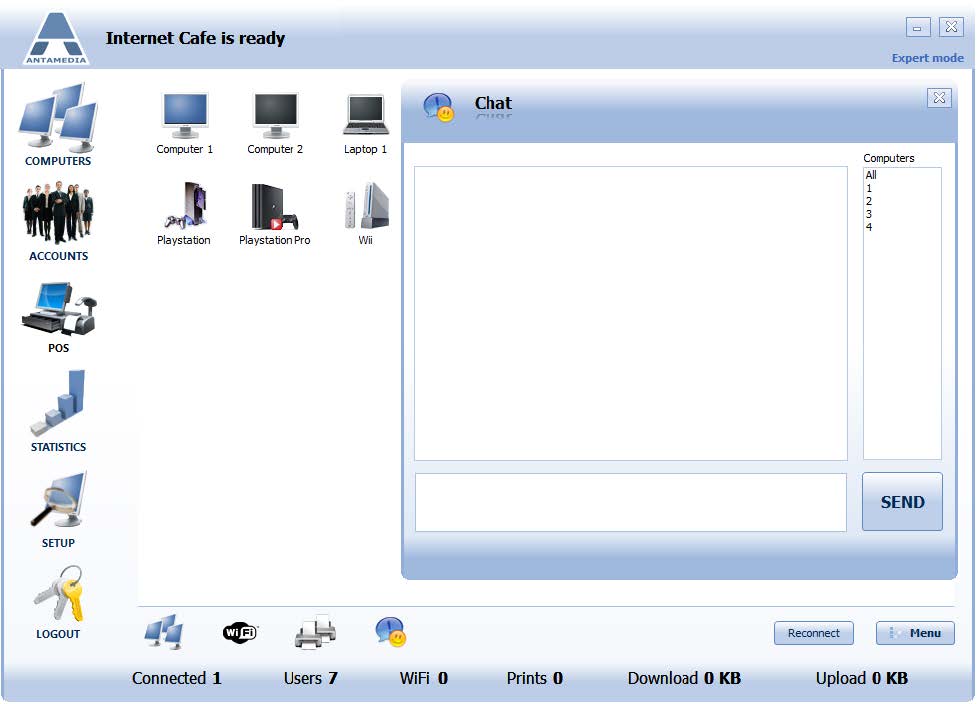 People are social creatures and as well as keeping in touch online, they'll often regularly enter your cafe in groups.
That's a good thing but sometimes it can get rowdy, so Antamedia provides a "Chat" system, allowing your customers to silently send instant messages to each other.
It's quicker and easier than email and avoids customers shouting across your cafe, keeping them, you and your other customers happy!
A proven revenue-booster is to offer discounts to regular customers, for example predefined discounts can be semi-automatically applied to a regular customer's bill.
For full automation of such things check out our available hardware and smart cards below…
Multiple Cafe Support (Networked)
Have more than one cyber cafe? With Antamedia you can connect all your cafes as one network, enabling ticket and user account sharing.
Your customers will be able to use their remaining time in any of your cafes and if using smart cards their login process is fully automated. You customers just insert their card and they're authenticated and logged in, instantly!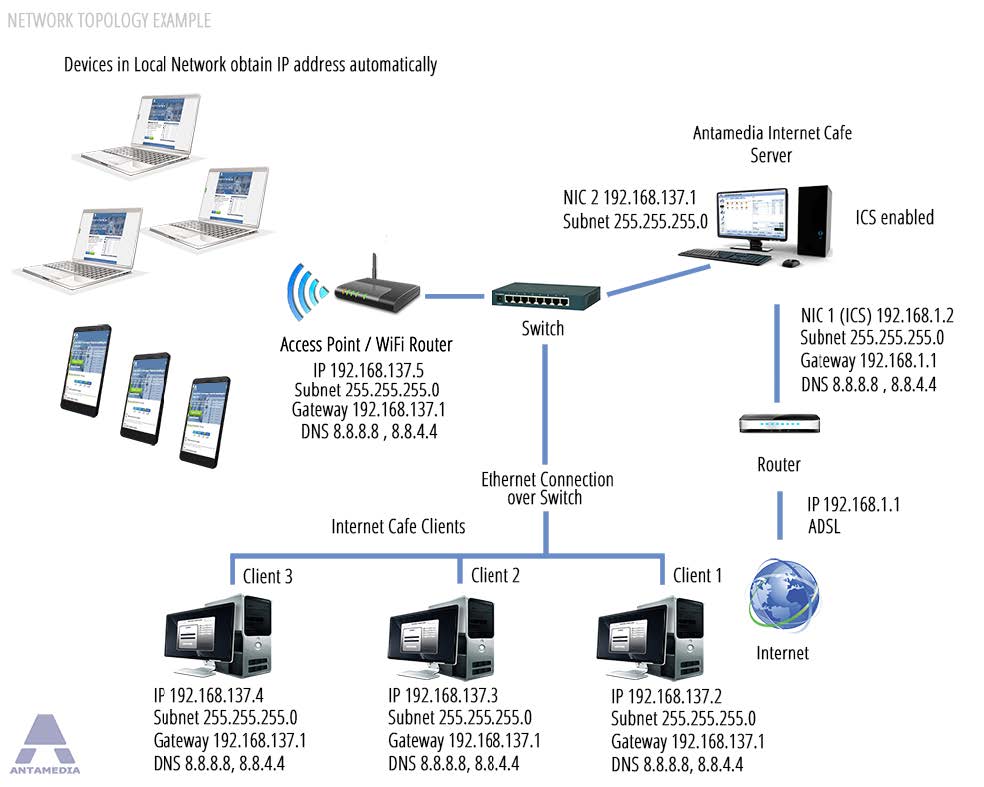 Selling Additional Products to Your Captive Audience
Direct revenue from hiring out internet-connected computers is certainly a growing opportunity, yet there's no need to stop there!
As well as chatting with other customers, your customers can chat with you (or your local staff operator).
It's slick, professional and provides a fully-branded Built-in Ordering System, where your customers can order items without moving from their chair.
Your customers can easily order products from any client computer, be it writable disks, souvenirs, food…
Even the most die-hard Netizen needs to eat and drink!
Even if your business is an actual food-serving cafe and the cyber element is an addition, Antamedia has you covered:
Tables and Point of Sale (POS)
Sell drinks, snacks, hardware and bill your services.
If you run a cafeteria or restaurant, Antamedia can handle ALL your customer orders. Just add tables and you're ready to run.
There are no limits on POS categories or items and configuring is super easy.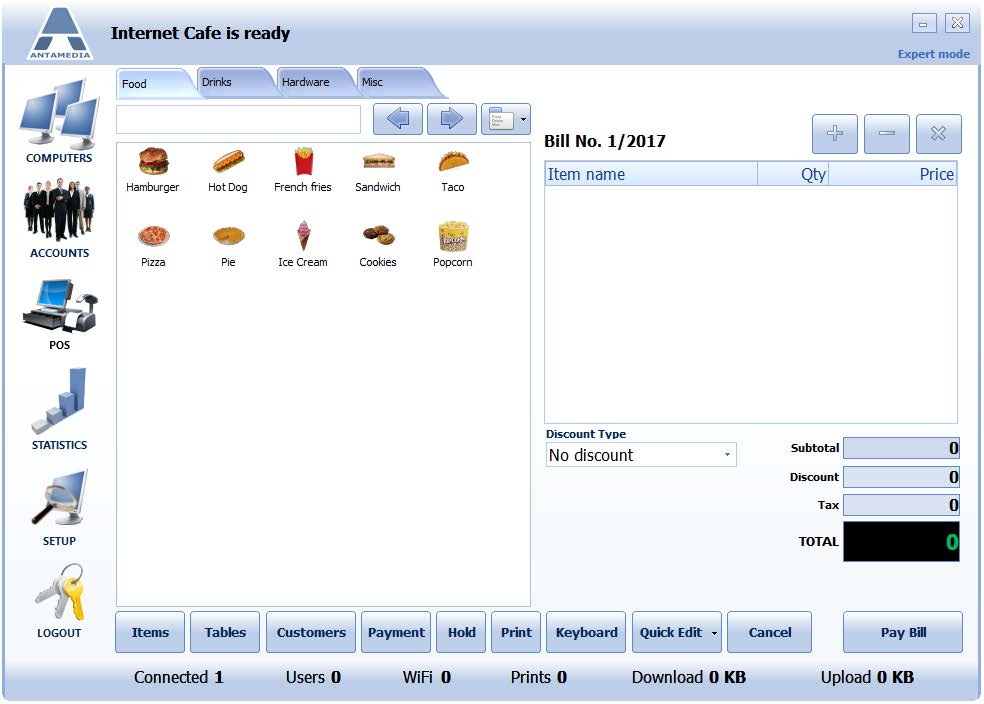 Our POS system can be used as standalone software on any other computer, while connecting on the same database.
This means you can combine restaurant billing with cyber cafe control!
It even handles stock-keeping…
No other internet cafe software makes it so easy to squeeze the maximum potential from your business, yet remains a fraction of the cost of custom-made solutions.
In fact our users tell us they often increase profits by 20% or more, simply by changing to our software!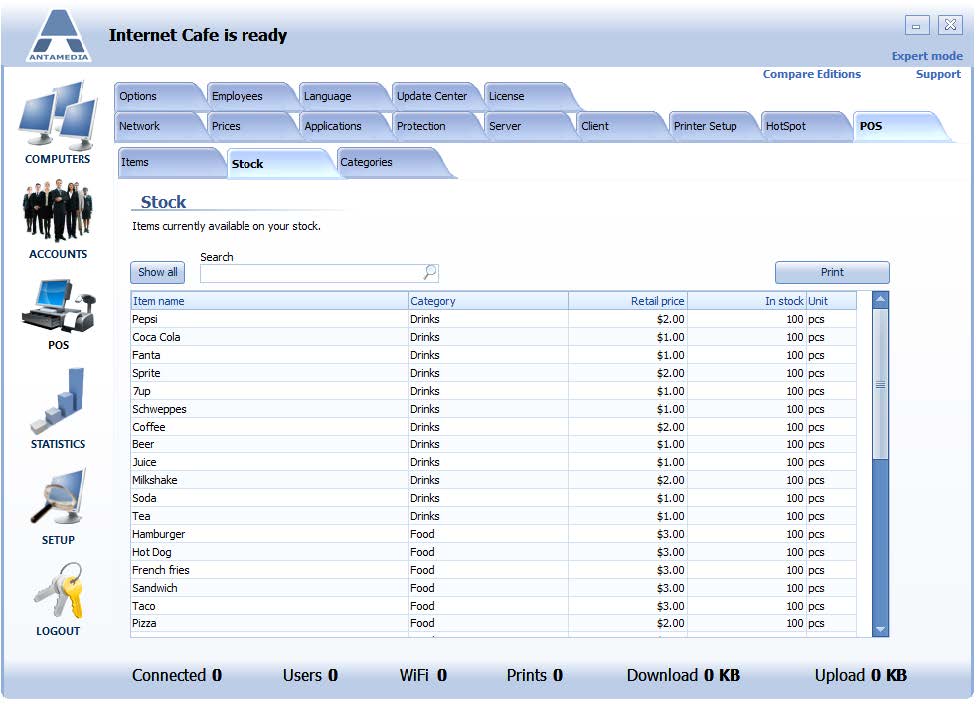 Download the fully-functional demo today – and be aware we also pride ourselves on having the best support team available – you'll never get stuck!
Antamedia Help & Support Center