Gaming Center, Internet Cafe and Cyber Cafe Software


Controlling Your Internet Cafe
At the heart of your operation is the "server" application, running on your own computer.
From the panel you have complete and total control over all the "client" computers, in a single location – or even as part of a network of such cafes.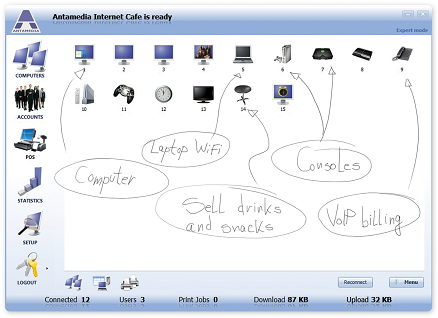 To run a network just set up a single PC as a server, using a static IP address. Antamedia can then work across the internet, securely controlling every computer as easily as if it were in the same building!
You can do almost all operations right here from a single panel – including setting up or adjusting:
• Pricing Amounts and Structure,
• Full Security Options,
• Edit Restricted Programs,
• Change the Client Skin
• Advertising Options
• Internet Explorer Settings etc.
• Lock or Unlock any Computer
• Reboot or Shut Down
• Look at any Desktop Screen
You can even adjust the volume setting of any individual computer!
For both fixed line and wireless data traffic it is vital that you retain some level of control over bandwidth (volume of data transferred to or from your computers) and the rate (speed) of transfer.
This is both to control your costs and to ensure each customer is getting a reasonable share of available resources, maintaining a decent speed and volume for each user.
Each customer's bandwidth use is automatically controlled for quota and speed, preventing any individual from hogging the system and upsetting your other customers.
You can either take over manually or just let Antamedia allocate your resources efficiently. Easy!
Printing? Make Extra Money With Print Management…
It's no surprise that Antamedia's printing control system is world class.
Antamedia is famous for it's Print Management software, popular in libraries and internet cafes across the world.
Totally dependable, it makes setting up a single printer or an entire network a simple and predictable affair.
The software automatically controls all your printers (ink jet, laser, network or USB connected), and who is allowed to print.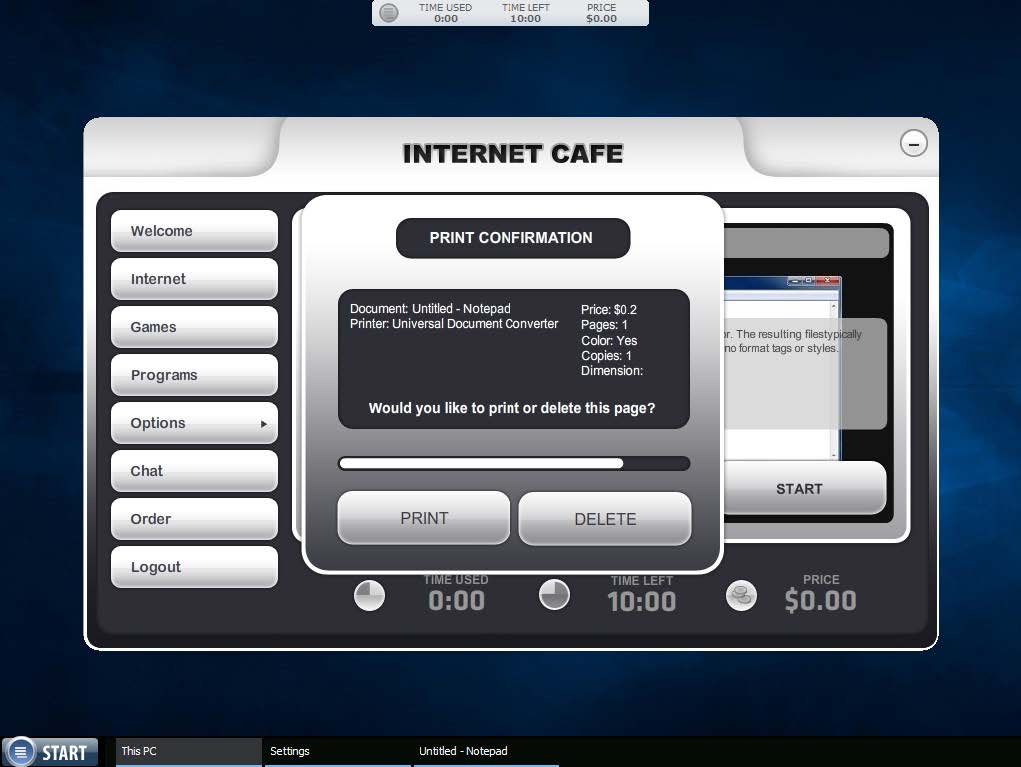 Bill your customers for printed documents based on color, size, copies or simply the number of printed pages – your choice.
The cost can be added to their bill, or you can even deduct credit from the customer's online time!
Just a single printer in your cafe makes life better for your customers. Antamedia makes sure it turns a profit.
Stock-keeping (Inventory)
Antamedia Internet Cafe Software also keeps track of your stock for you, regardless of what you're selling.
This ensures you never lose a sale because of lack of stock but you don't need to waste money by over-stocking. This is especially important for perishable goods.
All product quantities are displayed in statistics and you'll be warned when they drop below your specified amounts.
The report system makes it easy to view check items in stock, sold today or sold in total.
It's stock-keeping – made easy!
Statistics section of Antamedia Internet Cafe offers you the possibility to collect and analyze valuable statistical data about your business.
Various reports provides instant access to statistics and current stock.
• Time Usage
• Number of logins
• Sales
• Download/Upload rate
• Computer Activity and other data.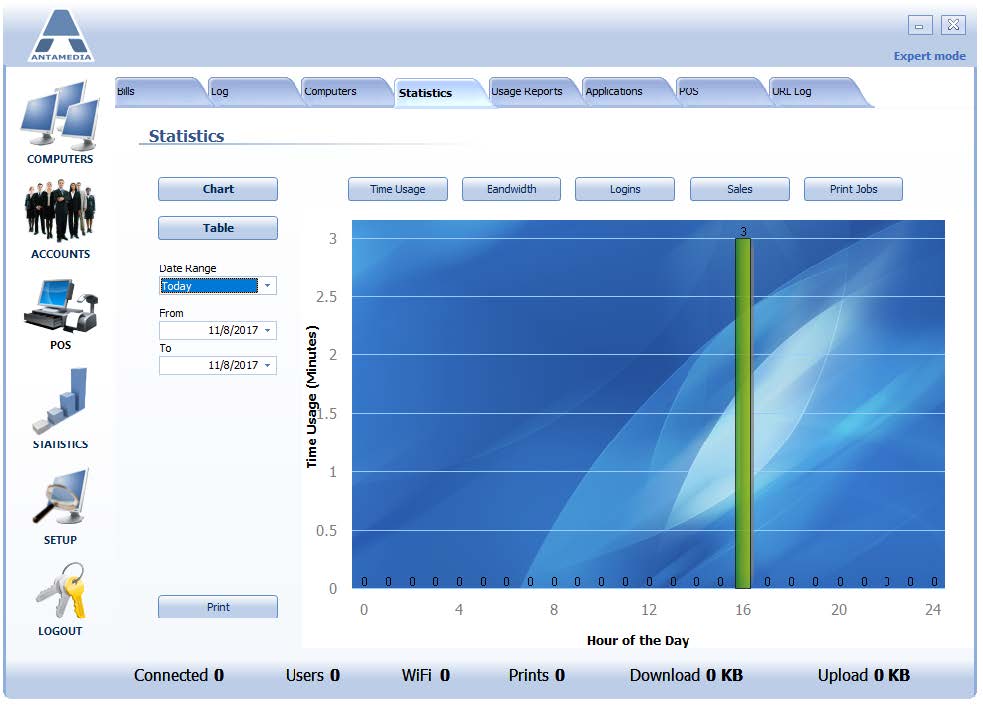 Book-keeping is easier when you allow for and record taxation at the moment of sale. To make this simple Antamedia Internet Cafe software has a very flexible tax system, one that works with any country's tax regulations.
There are 3 different taxes, including a "tax on tax" option. Taxes are separately configured for time usage, each POS item, console time, printing or bandwidth.
For convenience all your earnings data can be exported as pdf, html, csv or plain text reports.
Internet cafes are surprisingly efficient; offering a strong return on investment – providing your equipment is protected and controlled!
Antamedia gives you that control.
Now that you know your hardware and profits are protected, check out the many other ways Antamedia helps your internet cafe business – then download a free, fully-functional demo! Try our free, no obligation demo today. Registration is not required.
Antamedia Help & Support Center